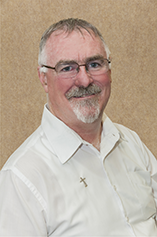 My family background is that I grew up in a family of six children, three boys and three girls originally in the country before moving to Sydney when I was twelve years old. I always say I had the best of growing up in the country and then the teenage years in the city. My siblings and families all live around Sydney and we stay in close contact.
Fr. Michael was educated at St. Colombia's, Springwood and St. Patrick's Manly. He was ordained in 1982. Fr. Michael has worked as a Priest at Asquith, Concord, Liverpool, Tamworth (on loan to Armidale Diocese for two years), Lane Cove and Cronulla. Fr. Michael was appointed to our Parish and said his first Mass on the 29th October 1995.
On the 19th August 2012 he celebrated his 30th Anniversary of his Ordination into the Priesthood with family, friends and fellow parishioners in the Parish.
Father Michael left the Parish on the 31st December 2013 to become the Parish Priest of St Mark's in Drummoyne.